Summary
The ANPN Project addresses the need for an authoritative, statewide resource documenting traditional knowledge of Indigenous place names across all of Alaska's Native languages.
"People used to name these things as they see them."

--Chief Peter John
Goals
Create a comprehensive record of the indigenous place names of Alaska, across all of Alaska's Native languages. To achieve that end the project is building a multilingual geo-database which both (i) preserves existing documentation; and (ii) synthesizes a new documentary record based on input from Native language experts.
Explore the connections between Indigenous place naming, environmental knowledge, and ecosystem services.
Promote continued use and appreciation of Indigenous names.
Papers and presentations
Place-naming strategies in Lower Tanana Dene (Athabascan) [pdf]
Jason Harris and Gary Holton. Presentation to Society for the Study of the Indigenous Languages of the Americas, January 8, 2015. Portland.
Database
The geodatabase developed by this project will be designed to handle issues of both linguistic and geographic uncertainty. The database will be searchable through a web-based portal, and GIS data will also be made available through the Alaska State Geospatial Data Clearinghouse
The ANPN Project is also compiling a list of place name resources for Alaska Native languages. For more information view the Projects Page.



Gwich'in Workshop
The Maps and Names project will host a workshop on the Gwich'in place names atlas for community members and elders in Fort Yukon on July 11-12, 2017. Contact Joe Matesi (jmatesi@alaska.edu) for more information.
Maps and Names Project
ANPN has been awarded a grant from the National Science Foundation to support the integration of historic maps, manuscripts, and place names. This 3-year project, entitled Linking maps, manuscripts, and place names data to improve environmental knowledge in Alaska, is a collaborative effort with the National Snow and Ice Data Center and will create a sustainable platform accessible to both current and future researchers and community members. For more information see the project website. [2014-08-28]
ELOKA Statement on Indigenous Knowledge
This document lays out policies for sharing Indigenous knowledge, as developed at the ELOKA workshop, Sharing Knowledge: Traditions, Technologies, and Taking Control of Our Future, held September 22-24, 2015 in Boulder, Colorado. This statement was presented to the 2nd Polar Data Forum. [download]
ANPN Whitepaper
This document presents initial thoughts on developing a registration authority for Alaska Native place names. [download]
Native Place Names Workshop
On April 29, 2015 the Alaska Native Language Archive and the Bristol Bay Native Corporation co-hosted the first statewide workshop on Alaska Native Place Names. This historic workshop was held in conjunction with the annual meeting Council of Geographic Names Authorities (COGNA) in Anchorage and drew nearly 100 participants.
Sahtu History Project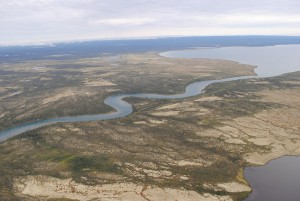 The ANPN Project is currently collaborating with partners in the Northwest Territories to provide access to historic place name data collecting by Em\xeele Petitot in the 19th century. Read about the project in this article.
The Alaska Native Place Names project was launched with support from the Alaska EPSCoR Program. Continued funding provided by the Alaska Native Language Center and the National Science Foundation.